---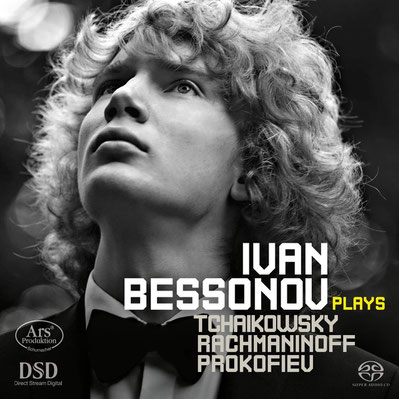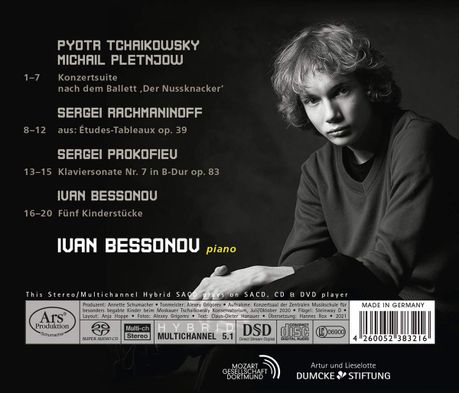 CD review by Adrian Quanjer / HRAudio.net
This week I got hold of two Russian pianists who couldn't be more different on all counts but one: excellence, though each in its own way. Ivan Bessonov, an 18-year young talent, studied at the Moscow Central Music School for Particularly Gifted Children and is discussed here. Elena Margolina, having earned her laurels during an already distinguished career that started after having won a Schubert contest in 1995, got her concert diploma in St. Petersburg, finishing her studies 'summa cum laude' in Detmold, Germany. Her review is here: Schubert: Piano Sonatas 13, 14 & 16 - Margolina.
Both are not new to the recording studio. Like previous albums, these, too, were produced by ARS Produktion (Annette Schumacher), but on different locations with different sound engineers: Manfred Schumacher (Wuppertal, Margolina) and Alexei Grigorev (Moscow, Bessonov).
In 2019, reviewing his debut recording, I dwelled on Ivan's future development, saying: "It is too early to predict how high his star may rise. For the moment it would seem that Bessonov has more than sufficient scope to further develop and deepen his artistry". My question now is: Is he a Vladimir Horowitz in the making? Bessonov commands a fabulous technique and has seemingly no difficulty in carving out a personal path that might eventually lead to fame. Commensurate with his age, he is bursting with daredevil energy and vivacity, willing to tackle anything no matter how difficult, in a spontaneously risky manner.
It is said that what is good comes fast. So far this seems to be the case with Ivan Bessonov. With three first prizes under his belt, notably the Moscow Grand Piano Competition (No, not the Tchaikowsky one, at least not yet) with a most revealing final movement of Mozart's Piano Concerto No. 21, showing a versatility going beyond Russian Masters.
As for this album, passing over Tchaikovsky's Concert Suite, a piano arrangement of a series of Nutcracker tunes, concocted by Bessonov's elder piano celebrity, Mikhail Pletnev, played with verve as an ideal 'opener' for the public at large, I'd like to draw attention to his account of Rachmaninoff's Études Tableaux Op. 39 (1 - 5). Here we get the full blast of Russian School. Immensely concentrated and powerful, indirectly (or willingly?) reflecting the troubles in Tsarist Russia on the eve of the Proletarian Revolution. In short, a compelling interpretation as might have been done by, indeed, the Great Vladimir in his heydays. Most impressive and technically a cut above the rest, though I would have wished for a little bit more lyricism here and there.
The best part, however, is Bessonov's interpretation of Prokofiev's most popular seventh piano sonata. This is the domain of the likes of Sviatoslav Richter, but alas, not available in high resolution, or the Irish 'outsider', Barry Douglas, Gold medallist of the 1986 Tchaikovsky International Piano Competition, with which I compared (1991 RCA RD60779 RBCD). In doing so, I had to forego my preference for Super Audio Surround. But even so, Bessonov's playing showed a level of maturity rare of someone aged 18.
Where in the quasi-peaceful middle movement hardly any difference can be noticed between the two (switching discs multiple times I got lost), Bessonov's disturbing 'attaques' in the outer movements of this wartime sonata are even more spine thrilling than Douglas'; a realistic 'temoignage' of the atrocities committed in Stalingrad. It left me completely breathless. There is no doubt in my mind: For me, this is now the version to have.
The five concluding lullabies 'of sorts', composed by Bessonov, give further proof of his versatility. Based upon Schumannesque children's songs, we are regaled with some jewels of charm, wit, and invention. A perfect close to a mighty programme.
Like I said, if it's good it will come fast. But hopefully not too fast. Talents like Ivan's need to be nurtured and protected to full sophistication. Technical ability should not become an end in itself but rather an indispensable vehicle for refined musical expression, which, I'm convinced, is fully within Ivan's sensitive grasp.
The recording took place in the concert hall of the Moscow Central Music School for Particularly Gifted Children, engineered, like Besonov's previous one, by Alexei Grigorev. It lives up to the ARS standard, including a pronounced surround. The liner notes are particularly worth reading.
Blangy-le-Château, Normandy, France.